How To Use An Interview Assessment Tool Effectively?
Using an interview assessment tool, you can dig deeper into the screening process without wasting time. Here is an article on how to use it effectively.
The best interview assessment should ensure you conduct a candidate assessment without too much of a hassle. Similarly, you want a tool that will help you see beyond the applicant's CV. this is the best way to make sure you hire the best candidates that meet your company's needs.
As a recruiter, your job is to find candidates that will ensure you compete effectively with other players in the market. The only issue is that finding talented people requires that you scroll through various applications to find qualified individuals. Luckily, this process can be automated thanks to an assessment tool for interviews.
You can save yourself from trouble by finding the best interview tool in the market. This is a tool that helps in automating the screening process. Besides, it guarantees that you narrow down your search to only the best individuals that will serve your business better. Ultimately, you will make unbiased decisions to bring qualified personnel to join your company with the right information.
How You Use an Interview Assessment Tool in 2022?
We live in a fast-paced digitized environment. You don't have to wait until you conduct interviews to identify the best applicants for the job you recently advertised. A virtual hiring tool can ensure you zero in quickly on what matters most as you evaluate candidates for a specific job position.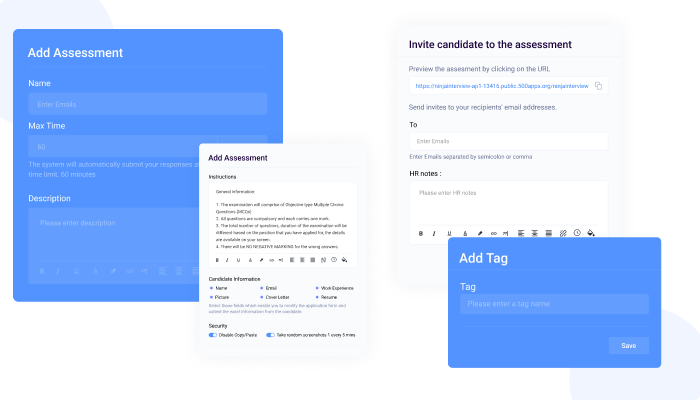 An online interview tool can help you perform the following tasks:
1. Focus on Skills
An assessment tool ensures that you filter out the best applicants based on their skills. Sure, going through the applicants' CVs is important. But you might miss out on crucial insights if you fail to consider their skills. For that reason, using an assessment tool is important.
2. Make Quality Hiring Decisions
An interview assessment software is more accurate than human beings. Data provided by the assessment tool can ensure you make sound decisions. You don't have to guess whether certain candidates are good for your company. However, you use reliable information that helps you narrow down to talented folks your company will benefit from.
3. Create Diverse and Robust Teams
No doubt knowing the applicants' strengths will guarantee that you create a strong team that your business can confidently rely on. What's more, you get to evaluate your candidates based on other important factors like their values, which means you bring diversity into your company.
Basically, an interview assessment software allows you to dig deeper into the applicant screening process without wasting time. For instance, you can use targeted questions to narrow down your search. In addition, by speeding up the interview process, you collect all the valuable information you need with just a few clicks. The integrated systems that come with the assessment tools will also allow you to predict the best-fitted candidate for the job quickly. You can also gauge how a candidate will perform in the future and whether you will retain them in the long run. In other words, the right tool gives you detailed insights for better applicant evaluations.
Another aspect of an assessment tool for interviews is that they simplify the interview scheduling process. Once you are through with the initial interview stage, you don't have to schedule interviews in person. The assessment tool can do the job for you. With a simple-to-use interface, you can effectively manage how interviews will be handled depending on your timeframe. Undeniably, there are times when you might find yourself unconsciously selecting candidates using a biased approach. Finding an ideal virtual interview tool will help you prevent this from happening.
Choosing an Interview Assessment Tool
Finding the right assessment tool that fits your business needs might be a challenge with the many options to choose from. But this shouldn't be the case if you have the right information. Knowing your business needs and the specific features you are after makes the selection process quite easy.
Here's an overview of one of the best tools for interview assessment, with over 30,000 users already benefiting from it.
NinjaInterview
NinjaInterview stands as the most powerful assessment tool for interview due to its unique features and functionality. Besides hastening the screening process, this software is easily customizable to suit your business needs. Therefore, you can be sure you enhance your interview experience among your HR team. You get to explore and take advantage of the many assessment test that will guarantee you evaluate your applicants objectively. Plus, the integrations and widgets that come with the video intrview platform will definitely capture your attention.
Features to Look for
When searching for the best video interview software it's crucial that you consider the following features:
Ease of customization
Reporting and analytics
Mobile support
24/7 support
Data security
Candidate management
Customizable templates
Onboarding
Conclusion
Arguably, the interview assessment process is never a simple task to handle. But this can be made easier by choosing the right assessment tool that meets your business needs. Apart from fastening the hiring process, this software will ensure you hire talented individuals that will bring a major transformation to your company.