8 Must-Have Video Interview Software Features
Recruiters can interview potential candidates remotely from any location in the world using video interview software. It is a rather modern element.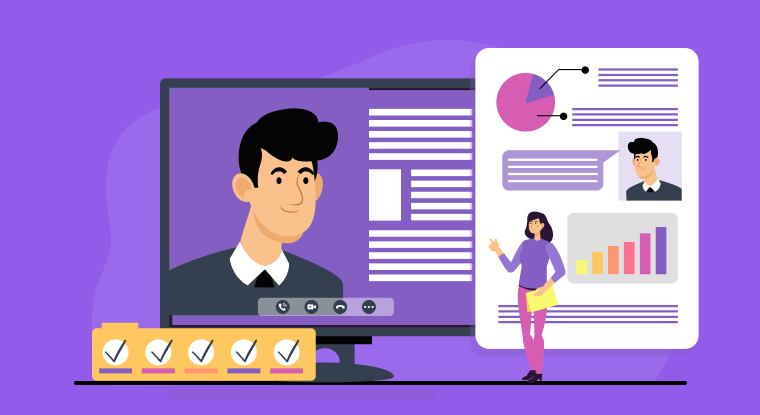 Unlike conferencing tools, which have been around for a while, video interview software is created with recruitment software in mind. With tools to provide feedback, make notes, and other things, it makes recruitment more shrewd and simple for everyone involved. They help you streamline your screening process and cut down on the time and resources you spend on interviews. Your entire employment process, from sourcing candidates to making offers, is automated using video interview software in conjunction with ATS functionalities.
Purpose of Video Interview Software
1. Global Candidates
With the use of video interview software, you may connect with any applicant, wherever they may be in the world. Setting a time that works for both of you is all that is required. You can explore several methods of talent discovery with the help of video interview software.
2. Cut Costs
When compared to face-to-face interviews, video interview software is almost free. Face-to-face interviews come with a number of costs, including those for the candidate's travel, lodging, logistics, and refreshments, among other things. However, all you need for video interviews is a reliable software and a functional internet connection.
3. Reduce Time-to-Hire
The time it takes to employ a candidate is far less than when it comes to in-person hiring thanks to the ease with which follow-up conversations and interviews can be scheduled using video interview software. Would you like to learn more about the various hiring metrics?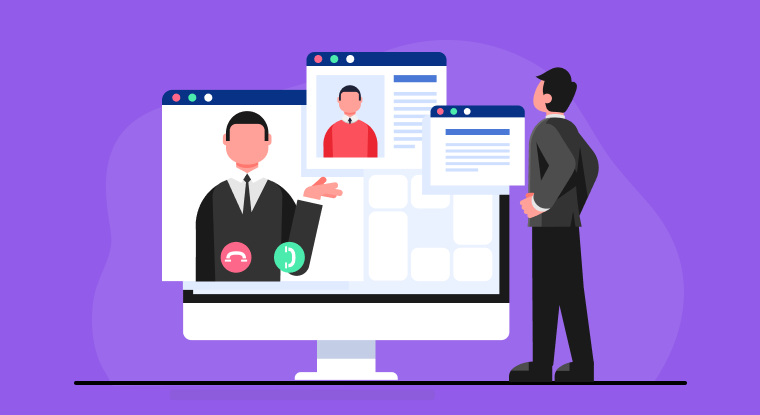 4. Escape the Scheduling Maze
The hardest part of hiring, according to recruiters, is scheduling interviews. It can be challenging to locate schedules that don't conflict when there are numerous contenders. Further challenges include finding a meeting space, leaving enough time between interviews, etc. All of these issues are resolved by using video interviewing software.
5. Attracts Passive Candidates
The passive applicants you are after won't be eager to find time from their beloved existing jobs to travel for an interview. In a face-to-face setting, it becomes nearly impossible to influence people to consider your business. With the video interview software, they can accept the call without incurring any expense and, if done well, they might join your organization.
6. Have More Interactive and Smart Assignments
Candidates anticipate all interviews and online assessments to take place in person in the face-to-face, in-person environment, which often limits your ability to be creative with the assignments. With video interview software in place, you can share your product screen or a real-time chat or ticket and ask the candidate to manage it. It can be a coding test or a general written test. You can examine not just their technical skills but also their soft skills by asking them to give a brief presentation or by playing a recorded video.
7. Save Time on Candidate Screening
Meeting the candidates, conducting a follow-up interview, gathering feedback, and ultimately learning the outcome of a candidate are all simple processes. With the use of video interview software, you may conduct a hiring procedure that is quick and simple.
8. Avoid Time and Place Conflicts
The ability to conduct the interview whenever and wherever you choose is another significant benefit of using video interview software. The interviewer or interviewee can take the phone and conduct the interview even if they are out of town or stuck in a long line at the bank. The traditional obstacles to the process—such as a regular time of availability, and the requirement to be in the area—are gone.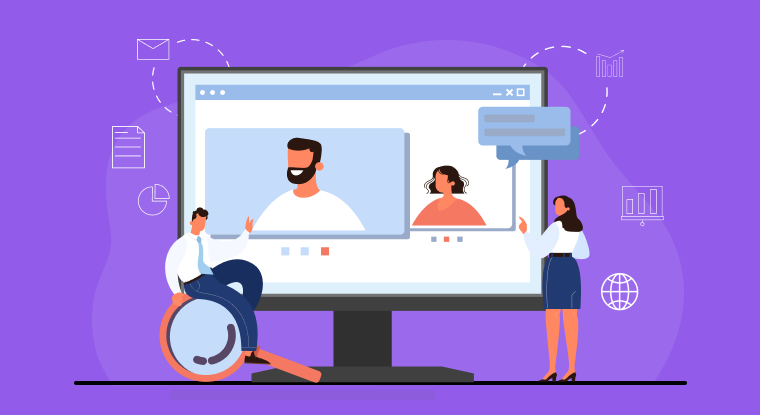 Must-Have Video Interview Software Features
The five key characteristics of video interview software are discussed in this article to assist you in making an informed decision and to ensure a better hiring process.
1. Scheduling
An essential component of video interview software and the foundation of your entire employment process is scheduling. When managing a large workforce or complicated applicant schedules, human resource managers and staff may have to set aside 8 hours per week or more to create timetables for examining resumes and conducting interviews.
When a dispute occurs, the effectiveness of the hiring procedure could be harmed, and additional time might be lost ironing out the problems. Instead of juggling all the interactions and waiting for emails for days or even weeks, recruiting managers may rapidly find the right candidate to sit for interviews with the scheduling plugin.
Scheduling tops the list of HRIS software characteristics that organizational teams should take into consideration because it reduces the stress of managing personnel and conducting interviews. Your firm can accomplish collaborative scheduling, be alerted to forthcoming video interviews, and make scheduling communication quick by integrating scheduling with your HRIS systems.
2. Data Analytics
A little-known capability of video interview software called data analytics is gradually changing how interviews are conducted. Hiring managers can develop a more accurate understanding of a candidate's abilities and fit for a post and company by using data analytics.
Additionally, data analytics links the hiring process to information from the employee lifecycle, such as data from engagement surveys, attrition rates, production performance, and other factors that can assist in anticipating a job candidate's potential future performance. Eliminating unreliable sources, also enables hiring managers to streamline their recruitment process.
As a result, businesses will be able to make great progress, spur minor advancements, and, most crucially, lower their personnel turnover rate. In addition to everything else, data analytics will also help you increase the pace you employ because it enables you to create a model that outlines the ideal hire candidates.
3. Video Resumes
Utilizing video resumes is another advantage of employing software for video interviews throughout the hiring process. In contrast to standard resumes, video resumes are typically 60-second movies that give employers a fast impression of their prospects' charisma, personality, and communication abilities before the interview.
In a time when people are more visually oriented, video resumes give hiring managers a quick method to sift through a sea of candidates and make sure they don't miss the perfect one. HR managers may quickly evaluate a candidate's expected performance by watching, listening, learning, and acting on the information offered on a visual platform.
Additionally, the majority of video interview hiring platforms enable users to exchange video resumes, making it simpler to see what other executives think about a certain candidate. Hiring managers can get right to the point and address candidates who should be given serious consideration for the post in this manner.
4. ATS Integration
System integrations are a crucial aspect of video interviewing technology that are frequently mistakenly disregarded, especially regarding how well they work with your applicant tracking systems (ATS). Businesses can improve the hiring process by handling multiple job activities including candidate communication, screenings, and job advertising efficiently by connecting their ATS and video interviewing solution.
Additionally, ATS integration will make it simpler for recruiting managers to keep an eye on candidate profiles, ensuring that nothing is missed. When examining a large number of resumes and applications, the HR department frequently misses qualified individuals because they are unable to keep track of important information.
Organizations can comprehend the phases of video interviewing by employing a program that interfaces with their current applicant tracking systems (ATS).
5. Self-Service Portal
A self-service portal is a perfect feature to provide candidates with quick replies to straightforward inquiries about organizational policies and extra details regarding open positions. On the other hand, it further aids recruitment managers in improving their candidate management initiatives by cultivating solid relationships with candidates and acquiring sound judgment when matching applicants to open positions.
Whether your company is hiring 10 or 1000 people, candidate management is an important part of the hiring process that cannot be overlooked. Candidate management is ultimately what makes your company an appealing place to work for prospective workers by ensuring that you consistently attract the right personnel and build a solid reputation and brand image. Technically speaking, HR managers can take advantage of self-service
Final Words
By modifying the video interview tool, you may streamline your hiring procedure and give candidates the best possible experience. Additionally, it will make the interviewer's job easier because they can evaluate the applicant with just one click. Therefore, video interview software is a blessing in the process of streamlining conventional interview techniques.
What Makes the Best Interview Assesment Tool?
#1
Hire faster by 50% with one-way video interviews
#2
Choose built-in coding assessments in Python, Java, .NET and 60+ languages
#3
Boost the screening and hiring process with autograding
#4
Evaluate candidates collectively from unlimited responses for multiple profiles
#5
Connect with built-in ATS like RecruitHire to speed up the shortlisting of candidates
#6
Share the link for assessments directly through emails
#7
Use 70+ pre-built screening questions for Quantitative, Verbal, Psychometric, and other types of assessments
#8
Integrate with ATS tool like built-in RecruitHire
#9
Unbelievable pricing - the lowest you will ever find
#10
Everything your business needs - 50 apps, 24/5 support and 99.95% uptime
Join the SaaS Revolution
All-in-One Suite of 50 apps

Unbelievable pricing - ₹999/user

24/5 Chat, Phone and Email Support