Streamline the Interview Process With Video Interviewing App
Video interviewing enable you to identify top talent faster by streamlining the recruiting process. With video interviewing, you can recruit people anytime, anyplace, with internet access.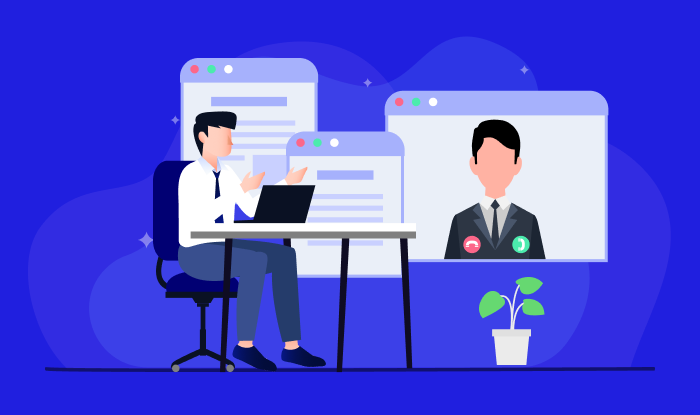 To get the very best out of their workers, organizations need to be able to select and hire top talent. Interviews are crucial steps to determine employees with the potential to contribute to the company's success. However, they can be stressful, complex, and time-consuming. An excellent way of reducing the stress of conducting these interviews is by having them online.
This article gives some insight into how you can use the right video interview apps to streamline the interview process. We also provide some ideas for getting started with video interviews at your organization.
What is Video Interviewing?
Video interviewing is an emerging technology that allows employers and applicants to conduct job interviews through video conferencing. It is a type of remote interviewing that can be used to supplement or replace traditional, in-person job interviews. Video interviewing is becoming increasingly popular due to its convenience and cost-effectiveness, as well as its ability to connect employers with applicants from anywhere in the world.
Video interviews are particularly helpful for remote projects, where the interviewer and the candidate might be several states away from each other. Video interviews are also great for on-site jobs, especially if the candidates cannot make it to the location. They are fast gaining popularity nowadays, with 60% of HR managers saying that they use or have used video interviewing in the hiring process.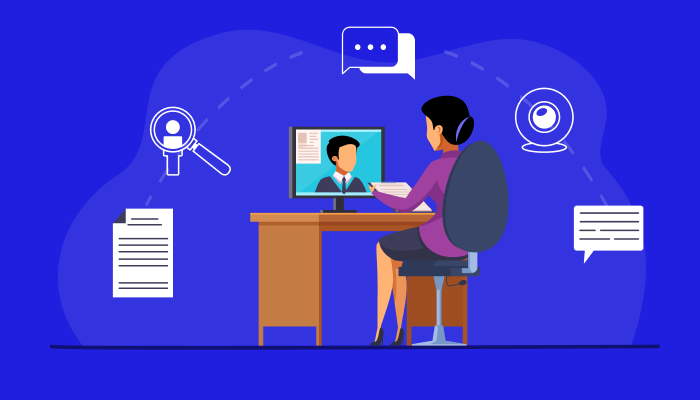 How does Video Interviewing Work?
Video interviews hold over interviewing software, which has various features to facilitate the interview process. Most of this software is cloud-based. Therefore, the interviewer and interviewee(s) need to log in before getting started. They can then communicate via a video chat function, which may be live. There are two methods of holding video interviews common today:
One-way Video Interviews
Asynchronous or one-way video interviews allow potential employees to respond at their convenient time. Here, recruiters use the software to create a questionnaire or record their questions. They then send the link to the candidates, who log in and respond via video format. The software records the answers for recruiters, who can now make their assessments.
Two-way Video Interviews
Also known as live interviews, two-way interviews simulate normal human conversation by allowing recruiters and candidates to talk to each other in real-time. This gives interviewers a good idea of the personality of potential employees. They are also more natural, giving room for follow-up questions that reveal candidates' skills and traits better.
Benefits of using Video Interviewing in Your Organization
Here are some reasons to consider using video interviews in your organization:
Reduces the Time Spent on Hiring
Conventional interview processes have been known to be highly time-consuming. With video interviews, the overall time spent on organizing interviews drops significantly, often by several days. For example, instead of spending several hours with candidates who may not meet standards, you can record a questionnaire and send it to the candidates. Your team can review this later.
Helps Companies Find Top Talent from Remote Places
With the rapid growth of technology, many jobs can now be done remotely. Video interview software ensures that you don't have to limit yourself to candidates within your area. You can interview candidates from distant places, helping you create a fantastic team with top talent.
Eliminates the Stress of Transportation
A common gripe among interview candidates is the stress of traveling far distances for interviews whose success they're not sure of. However, employers are more confident in hiring candidates whom they have interacted with on a more personal level. Video interviews address the concerns of both sides. They eliminate the stress on candidates by saving travel costs, while ensuring that interviewers get quality face-to-face conversations critical for making good hiring decisions.
How to Get Started with Video Interviewing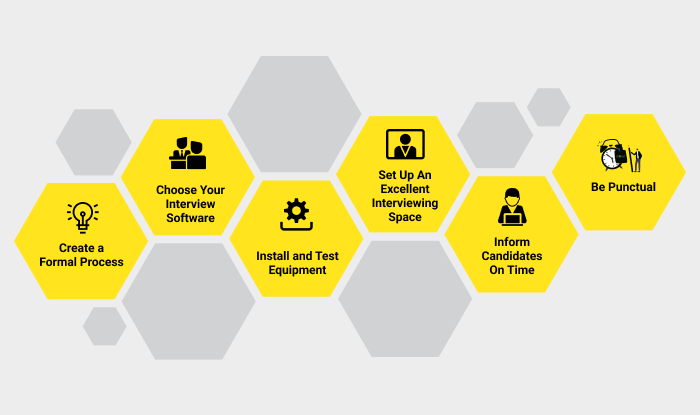 Follow these steps to get started with video interviewing in your organization:
Create a Formal Process
This is especially important if you're just starting. But even if you've conducted a few before, a good plan remains essential for a seamless interview. Involve every stakeholder and interviewer in the process – get their input and suggestions. Anticipate changes you might need to make in adjusting from in-person to online interviews. Also, determine how your team will react if something goes wrong during the interview. No detail is too small!
Choose Your Interview Software
There are several kinds of video interview software available, and not all will be suitable for your team. Explore your options and choose one that best meets your needs. Ensure that the software you choose is easy to navigate.
Install and Test Equipment
This is essential for a smooth and seamless interview. Install and test all important equipment such as microphones, speakers, and Wi-Fi with your team beforehand so that they get a good handle on them. A good idea might be to hold a dummy interview a few days before so that everyone understands the process.
Set up an Excellent Interviewing Space
An interview is a formal meeting. Create and maintain that formality by interviewing in a well-lit, professional setting.
Inform Candidates on Time
It's crucial to inform candidates about the interview as soon as possible. This gives them time to get familiar with the interview tool and ask questions if needed. Additionally, it helps prevent or minimize the possibility of clashing schedules.
Be Punctual
Show a good example as an interviewer by turning up on time. This shows the candidates that you respect their time and attention. Also, it is especially attractive to top talent.
Conclusion
Video interviews save recruiters time and money while acquiring top talent for their company. If you're looking to improve the recruitment process at your organization, they're certainly a great idea.
What Makes the Best Interview Assesment Tool?
#1
Hire faster by 50% with one-way video interviews
#2
Choose built-in coding assessments in Python, Java, .NET and 60+ languages
#3
Boost the screening and hiring process with autograding
#4
Evaluate candidates collectively from unlimited responses for multiple profiles
#5
Connect with built-in ATS like RecruitHire to speed up the shortlisting of candidates
#6
Share the link for assessments directly through emails
#7
Use 70+ pre-built screening questions for Quantitative, Verbal, Psychometric, and other types of assessments
#8
Integrate with ATS tool like built-in RecruitHire
#9
Unbelievable pricing - the lowest you will ever find
#10
Everything your business needs - 50 apps, 24/5 support and 99.95% uptime
Join the SaaS Revolution
All-in-One Suite of 50 apps

Unbelievable pricing - ₹999/user

24/5 Chat, Phone and Email Support