15 Best Tips for Online Interviews in 2023
Online interview is the new age choice as a lot of big and small companies are opting for online assessment. Three are several perks of it and this is why you will also find interview tools in abundance. From new-age hiring platforms to up-and-coming video interview tools, the options at hand are endless.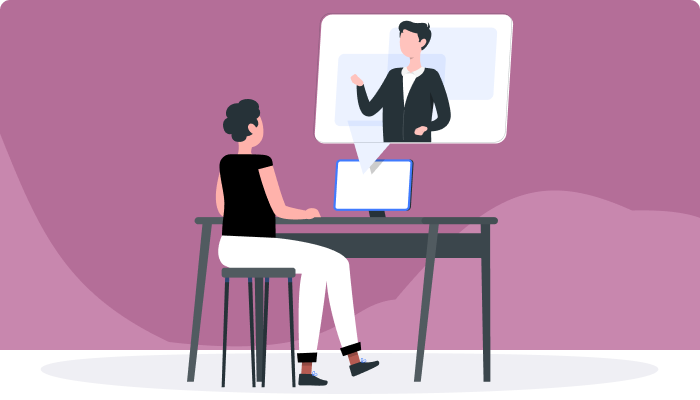 Online interviews are replacing the traditional ones at pace. To ensure the best efficiency, we are going to share the best tips for a virtual interview and we are sure it will help you out.
What Is an Online Interview?
An online interview is a process where applicants are interviewed in a virtual manner. This infers that they do not need to physically report to an office or any other location. All they need to do is get on to a pre-decided website which could be a hiring platform or a virtual interview software. They then need to adhere to the instructions and take the employee assessment test as mentioned by the company. Different platforms can have varied features and tests. One has to do it accordingly. Now let us talk about the top tips to help you conduct an online assessment in a streamlined manner.
15 Best Tips for Online Interviews
When you have an online assessment, one of the key things to keep in mind is to prepare well for it. Here, we are going to share some of the best tips that are sure to be of help. Both the recruiting managers and the applicants need to prepare well ahead of the interview. This is why we will be shedding light on the umpteen tips that will be applicable to both these parties. Make sure to pay heed to these points in order to have a smooth online interview.
1. Check the Technology
Always make sure that you are keeping a check on the technology that you are using, and the minimum parameters that you need to have. You should always update with the changes in technology and be at par with the advancements. There are several interview tools that are available. These are modeled on the latest technology and it is always advised to use them, whenever possible.
2. Always Keep Backup
When you are conducting an online interview, it becomes more important than ever to have a backup should the platform fail to function. The last thing you want is to have a failed interview session. So, the smarter thing is to always ensure that you have a functional backup in place. From power backup to alternate options should the platform not work in the desired manner; you need to have everything well in place.
3. Practice with the Interface If possible
Sometimes good applicants fail in employee assessment tests because they are not familiar with the interface. If you are not tech-savvy, it becomes more important than ever to ensure that you can get familiar with the interface. If there is an advanced version of the hiring platform, try to use that. You can also take demo tests to gauge how deep the water is. This will prepare you well before the hiring process.
4. Choose the Right Interview Tool
There are several interview tools that are available in the market like NinjaInterview. You can choose these and they come with several features like in-built questions, auto-grading, and more for quicker and more efficient reels.
Get started with the leading Online Interview today! Sign Up 14 Day Trial
5. Dress Right, Even When Facing a Virtual Interview
One mistake that a lot of applicants make is that they don't pay heed to the dress code during an online interview. Online assessment doesn't by any means infer that you can be casual with your dressing and etiquette. Always wear professional clothes including formal shoes. While a virtual interview will not show your shoes but behave like you are headed for a physical one. This will have a direct impact on your body language and confidence.
6. Check Internet Stability
When you are opting for a video interview, internet stability is of gargantuan importance. On no account can you afford to have a sloppy internet connection. If your home doesn't have a stable connection, go somewhere else with better connectivity. This is an absolute must and there is no way you can be ignorant of the stability. Check your internet stability using different tools and sites that do so and ensure your internet speed is good enough to help you finish the employee assessment test smoothly.
7. Prepare the Backdrop
During an online assessment with a video session, your backdrop will be in full focus. This is why you need to choose the right corner of your home when sitting for such interviews. If you have an office set up somewhere choose that as this looks a lot more professional and gives the right vibe. Even if you don't have an office set up, try to have a solid-colored wall with minimal extra elements. This acts like the right background to help engage with your hiring manager in a smoother way.
8. Work on the Lighting
The last thing you want is to find that your light effects are not proper. This will create a dark and hazy ambiance and your interviewer may fail to get a good look at you. So, use extra lights and stand lamps if needed but make sure you have proper lighting when facing an online interview.
9. Minimize External Noise
Make sure to cut down on the external noise. You can wear earphones to cut down the external sound. If you have kids at home, try to keep them in a separate room or lock your room and close the windows and doors when giving the employee assessment test. Too much noise during an online session is not considered good interview etiquette.
10. Think Before You Speak
You will be judged on what you speak. So, it is important that you really think well before speaking. Don't rush while answering questions. Take your time, stay composed and never forget to wear a smile.
11. Prepare the Question Set
As interviewers, you have to be sure that you are choosing the right question set that is relevant to the skills you want to pick. The right questions will help you filter through the applications in a much more efficient manner.
12. Check Some Mock Interviews
Applicants can go through mock interviews to get a real feel of what to expect from the employee assessment test. It also helps in eliminating the jitters and prepares them well for what is in store.
13. Double-check the Video Interview Schedule
You don't want your video interviews to be scheduled wrong. Hiring managers can use tools like NinjaInterview to set interview schedules and streamline them in the right manner. Applicants can choose to set multiple reminders to ensure they don't miss them.
14. Mind the Body Language
It is important to always have the right body language when appearing for an online interview. Hiring managers judge greatly on the basis of the body language and the confidence that the applicants have.
15. Work on the Communication Skills
Make sure to work on your commutation skills as it will be your best forte. Having the right skills will allow you to be on your top game and it will surely give you an edge over your competitors.
Benefits of Online Interviews for Business
There are surely several benefits that online interviews have to offer. A few of them are:
Quicker responses
Lesser administrative overhead
Eliminates manual work
Cuts down on useless expenses
Removes geographical barrier
Easy to scale
So, there are definitely several benefits that online interviews have to offer. As more and more companies are choosing to conduct employee assessment tests in an online manner, it shows how everyone is embracing technology in different sectors.
Wrapping it up
So, if you too have made up your mind to conduct an online assessment, the smarter solution is to prepare well for it. Make sure to stick to the use of the best platforms as this will help you conduct things in a seamless manner. The last mistake that you want to avoid is having a lopsided and inefficient platform for conducting such interviews. When everything runs smoothly, it will be worth it.
What Makes the Best Interview Assesment Tool?
#1
Hire faster by 50% with one-way video interviews
#2
Choose built-in coding assessments in Python, Java, .NET and 60+ languages
#3
Boost the screening and hiring process with autograding
#4
Evaluate candidates collectively from unlimited responses for multiple profiles
#5
Connect with built-in ATS like RecruitHire to speed up the shortlisting of candidates
#6
Share the link for assessments directly through emails
#7
Use 70+ pre-built screening questions for Quantitative, Verbal, Psychometric, and other types of assessments
#8
Integrate with ATS tool like built-in RecruitHire
#9
Unbelievable pricing - the lowest you will ever find
#10
Everything your business needs - 50 apps, 24/5 support and 99.95% uptime
Join the SaaS Revolution
All-in-One Suite of 50 apps

Unbelievable pricing - ₹999/user

24/5 Chat, Phone and Email Support