Video Interviewing: 6 Steps To Follow
Video interviewing helps HR managers make excellent hiring decisions. This article explains six steps that make video interviewing easy and more efficient.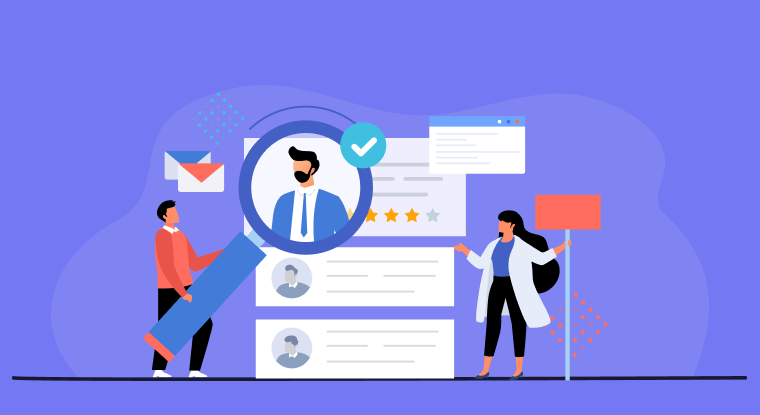 Since the pandemic started, remote work has become the norm. Businesses today realize that not all jobs need professionals to be on-site, whether it's a 9-5 or a freelance role they're hiring for. And as for the process of hiring new employees? Like what has happened with jobs, they've also gone online. So, video interviews are here to stay.
Many recruiters are still navigating this process to find the best candidates from a remote locations. It is a crucial step, as it helps businesses find the best talent from the pool of applications they receive. Additionally, the quality of the online interview is crucial to determine how efficient a business is. This means that video interviewing is important for attracting top talent.
And to effectively utilize video in hiring candidates, recruiters must set themselves up for success. We're passionate about helping you with this process. So, in this article, we'll describe exactly how managers and recruiters can do that. We'll also explore the benefits of video interviewing and why it helps your business boost its productivity.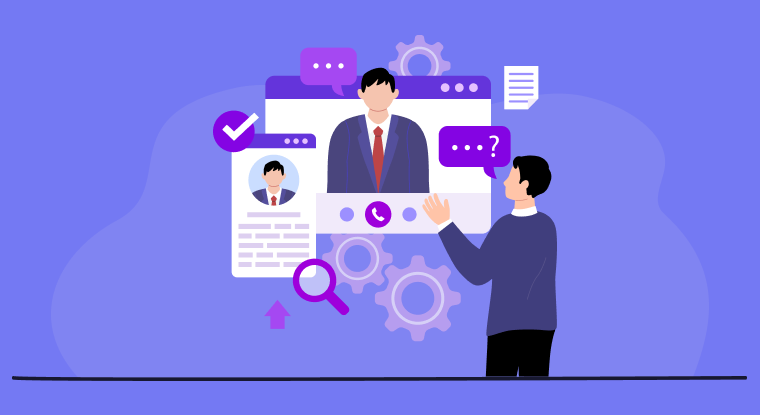 Benefits of Video Interviewing
Video interviewing opens your business up to several opportunities. Here are a few of them:
Reduce hiring time
With video interviewing, you're able to cut hiring time significantly. Video interviewing software allows you to create asynchronous interviews that help you spot low prospects easily. This way, you can sift through the applications and determine who will be the best fit for your company.
Additionally, when you've found these candidates, video interviewing makes it easy to schedule interviews with candidates no matter their schedules or location. Rather than having to postpone interviews due to issues with traveling, recruiters can choose flexible interview times that allow the business to attract and land top talent efficiently. And you'd better because the best talent is snapped up from the market in as little as ten days.
Streamline high-volume applications
Let's face it; one of the biggest nightmares for hirers is the amount of time spent reviewing applications to find suitable candidates. Combing through low-quality prospects wastes time and decreases your chance of reaching top talent quickly enough. And as a business, you certainly do not want to lose high-quality talent to competitors.
With video interviewing recruitment software, however, you can have your candidates answer a few preset questions and record their answers. This creates a recording that your HR managers and recruiters can check when it is more convenient. Most managers can spot high-quality talent from the first few minutes of such an asynchronous interview. This way, you'd solve the problem of high-volume applications effectively.
Allows for impartial hiring
In today's progressive economy, hiring fairly is becoming a vital factor in recruitment. Video interviewing can help the business make better decisions when hiring from a diverse pool of applicants. Traditional hiring methods such as reviewing resumes and CVs do not give a complete picture of the candidate compared to video interviewing.
Video interviews are an effective assessment tool to get a balanced picture of all candidates, and enable the candidate to show more of the qualities that make them the best fit for a given role. Additionally, with asynchronous interviews, giving all candidates similar questions allows recruiters to compare everyone on equal standards. This way, the best candidates can shine, irrespective of their backgrounds.
Hiring a diverse set of staff is crucial for having a motivated workforce. It assures workers that they can ascend the corporate ladder without discrimination.
Provides insights
The virtual interview is based on powerful online software, which provides new capabilities. Video interview tools can leverage new technology to provide valuable insight into hiring decisions. For example, hiring managers can record interview sessions when interviewing candidates, and these interviews may be saved to cloud storage. For candidates that perform well, hiring managers can go back to watch these interviews to see how top candidates answered questions.
By analyzing these candidates' answers, they can find commonalities in the responses of top candidates, so that finding excellent candidates in the future would be easier. Additionally, new HR managers can use these interviews as source material for preparations. This ensures a consistent hiring process across the company.
A convenient experience for candidates
Online interviews do not only provide benefits to businesses; these benefits also extend to candidates. With a interview software, the application and onboarding process is much easier. Rather than having to fly or drive several miles to an on-site interview (which is not a guarantee of an offer), a candidate can open their computer and take the interview in a few minutes or hours.
This saves time and money for the candidate and ensures that their schedules are not affected, especially for busy candidates. Video interviewing also allows candidates to attend interviews at a time that's convenient for them. This is particularly important when businesses are hiring across different time zones. This way, your business can access top global talent, whatever their location.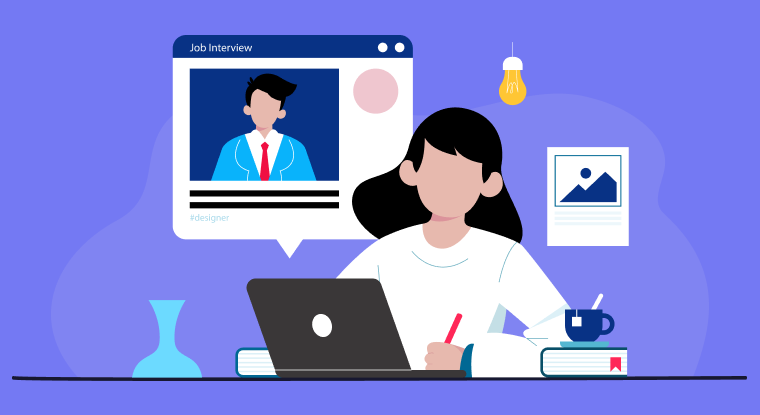 Six Steps to Conduct Better Video Interviews
Holding great video interviews with the interview tool helps you to hire the best talent for roles at your company. Follow these steps to learn how to set yourself up for success:
Create a detailed outline of the process
Each business has specific procedures that guide its operations, and this will apply to your interviews. To get the best out of your HR team, it's crucial to determine what exactly needs to be done at the start. So, create a formal plan that outlines the steps that candidates and HR team members need to follow for a successful interview.
Do ask yourself critical questions while creating this outline. Do you need new microphones for the process, or you'd need to onboard a new software for handling the emails? Add all these to the checklist. This will be useful when assigning responsibility and helps you keep focused throughout the interview process.
Choose a great interviewing
The video interview software is a valuable component of the interviewing process. And it's important to choose a software solution that resonates with your business needs. Check out the features of the software that you have in mind to ensure it can handle what you need it to.
Would you require candidates to submit a video introduction? Or you'll be conducting only live interviews? Ensure that your chosen software is robust enough to handle what you need. It's also important to consider the availability of user support. This way, you'll be sure that there is always help in case you need it.
Set up the necessary equipment
Being organized is a great way to appear attractive and credible to candidates. It shows that your business has its act together. And this is essential in attracting top talent to your company. So, ensure that every piece of equipment needed is available before the interview date.
Ensure that microphones, cameras, notepads, power cords, WiFi, and everything in between are ready. It's also a great idea to have backup equipment available so that you can deal with any possible issues instantly.
Inform candidates
When you've set everything up, it is time to invite your candidates to the interview. It is standard to have a comfortable time gap between the date you send your email and the date of the email. As your business does, your candidates have to prepare for the interview properly.
Whether it's ensuring they have stable WiFi or adjusting their schedule on the interview date, it's still an adjustment. Informing candidates well ahead allows them to prepare effectively so that you and the candidate can have a hitch-free interview.
Prepare questions beforehand
An interview is a formal interaction, and like any other official interaction, should be concise and effective. Preparing questions ahead of the interview is critical for ensuring that the interview remains within the relevant scope. When preparing interview questions, you can revisit questions from previous interviews to get an idea of what to ask.
You can also talk with workers who work in the department your business is hiring for so that you're able to create relevant questions for the role. Having questions beforehand helps you gain confidence, and ensures that the interview process is seamless.
Perform a dress rehearsal
When you've arranged and set all the equipment and software up, it is critical to ensure that all the elements fit snugly into a single whole. To be assured of this, you can perform a rehearsal before the date with relevant members of the HR team. This will help you spot issues such as faulty equipment, lack of technical know-how, et cetera. This way, you're able to detect them quickly and make changes.
Conclusion
Holding great video interviews can be easy, seamless, and efficient – the way video interviews were designed to be. But to achieve this, it's crucial to use the right approach. By following the right steps, you'll be able to harness video interviewing to hire great talent for your business. We strongly recommend NinjaInterview by 500apps to boost your hiring process in the right direction.
What Makes the Best Interview Assesment Tool?
#1
Efficient Vacancy Management
#2
Smart Candidate Management
#4
Unbelievable Low Pricing
#5
Quick Profile Assessments
#6
Easy Candidate Evaluation
#7
Real-time Data Updates
#8
Unlimited Question Library
#9
Pre-recorded video interviews
#10
24/5 Support and 99.5% Uptime Guarantee