8 Best Interview Software to Help You Make the Right Hires
There are several types of online recruitment platforms in the market. However, one of the best all-in-one virtual hiring software is NinjaInterview. It has features that most of its competitors can dream about.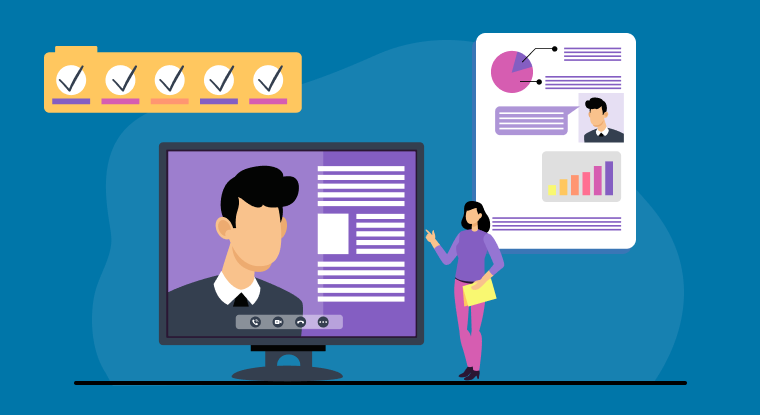 Times change, and so do the technologies that people use. What was prevalent a few years back has become obsolete today. Worldwide, recruiters have understood the importance of interview software. They have recognized a hiring tool as a game-changer for modern-day recruitment. According to a survey, almost 47% of global employers use an interview software tool to hire new candidates.
The use and importance of interview software grew in leaps and bounds after the recent global pandemic. With several travel restrictions in place and people fearing going to a foreign land for an interview, recruiters had to opt for a suitable video interviewing tool. This helped them save time and money and get the best minds for a job.
What Is the Best Interview Software?
Tools that help recruiters hire the best possible candidate for a job post within their organization are known as virtual hiring software. This software is compatible with companies of all sizes and helps the HR team connect easily with candidates from distant places. It helps job applicants and recruiters to see and hear each other in real-time. It is a convenient, efficient, and cost-effective way for organizations to hire people.
Benefits of Using an Interview Software
There are several benefits of using the best interview software. These benefits prove the importance of such tools and why recruiters should use them more often. Some of these benefits are discussed below.
Global Talents at Your Fingertips
Sometimes, you may fail to get the right talent for a job opening within your organization in your country. During such times, it is appropriate for you to look in other countries for the right candidate. However, traveling to foreign lands to interview different job applicants will waste time and money.
However, if you use interview software, things can get very straightforward and convenient. Interviews can happen online at your convenience, and you can expand your search for the best candidate beyond your geographical boundaries.
At a time, recruiters of different organizations had to conduct interviews in other cities and places. This included traveling, booking a suitable location to conduct your interviews, and organizing snacks and drinks for everybody at the interview venue. All of this costs a lot of money for the companies. At the same time, there was no guarantee that you would find the right sort of people for your organization.
Thankfully, with the help of virtual interview software, things got pretty convenient and efficient. Recruiters could carry out interview sessions online via video calls. This ensured saving money on travel and venue bookings. At the same time, it also helped the hiring department of your company to interview many candidates simultaneously.
Different jobs demand different skills. Some require soft skills, whereas some demand hard skills. With the use of interview software, it has become effortless for recruiters to identify such skills in their candidates. They can easily gauge their candidates' body language, communication, way of presentation, and technical knowledge via online interviews. Thus, it allows you to choose the best and ignore the rest.
8 Best Interview Software
There are several varieties of interview software on the market. Choosing the right one is crucial for your organization. Although all of these recruitment tools function similarly, certain features may differ from the rest. Some of the best interview software programs are discussed below.
NinjaInterview
NinjaInterview is one of the easy-to-use interview software suitable for businesses, candidates, and professionals. It helps to bring recruiters and job applicants together via video interviews. The primary aim of designing NinjaInterview was to help HR managers and recruiters focus on the behavioral traits of individual candidates and gauge whether they are fit for a job.
NinjaInterview reduces your interview time by almost 50%. Apart from gathering better insights about your candidates and gauging their overall performance, this software lets you instantly provide results. You can offer unbiased opinions about different candidates with NinjaInterview. Various integrated assessments make this tool more useful as interview software.
The unique feature of NinjaInterview is auto-evaluation. This evaluation tool proves very efficient and valuable for organizations looking to optimize their entire interview process. In addition, NinjaInterview allows interviews and portfolio submissions simultaneously. Some of the features of this software are video interviewing, assessment management, position management, and coding assessments.
VidCruiter
This video interview software is one of the first virtual interview platforms. It offers various features to its users, including scheduling automation, digital interview guides, and much more. One of the primary features that set VidCruiter apart from its competitors is its support for customization. There are various functions in the software that you can use, such as live video and pre-recorded parts.
VidCruiter is one of the best online interviewing platforms that offer a full recruiting suite and assists companies in solving various hiring-related problems without wasting much time. In addition, it is one of the most user-friendly platforms and highly efficient regarding recruitment.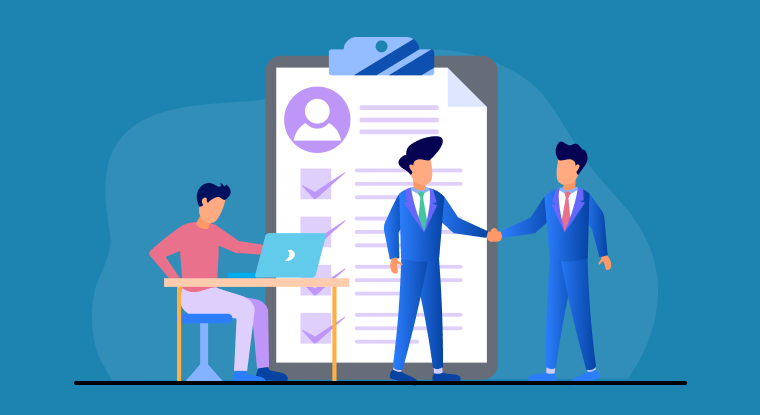 myInterview
myInterview is a highly efficient and practical cloud-based video interview platform. What sets it apart from other similar tools is its ability to merge with artificial intelligence to offer predictive analytics. As a result, you can quickly determine the actual color of your candidates. In addition, this virtual interview software allows you to share information with your HR department members and customize it as per your needs.
Customers love MyInterview's ability to integrate itself with various third-party applications. It also makes candidate analysis seem like a piece of cake for recruiters. Suitable for different organizations, MyInterview has various special offers for its users.
HireVue
If you are looking for mobile-friendly virtual interview software, HireVue will be a great choice. Candidates can record their answers via video using their smartphones or tablets on this software. HireVue is also one of those few video hiring tools that use artificial intelligence to scrutinize different non-verbal cues, including your candidates' eye movements, voice nuances, and facial expressions.
Interviewstream
With many unique features, Interviewstream is a top-rated video interviewing program. For example, you can opt for one-to-one interview sessions via video chats or a panel-style interview session with 20 candidates at a time.
Interviewstream also has a feature that allows candidates to prepare themselves for an interview. This helps the job applicants to appear for the interview all prepared. Many reputed companies use Interviewstream and find it relatively efficient and effective since it helps to streamline the interview process and save time.
Spark Hire
It is one of the most highly-used online recruitment software in the market. Besides providing top-rated analytics tools to recruiters, Spark Hire also has a wide range of valuable features for its users. This virtual interview software will be your best choice if you are one of those data-driven recruiters. Apart from some of the biggest names in the business world, Spark Hire is also suitable for startups. It can smoothen and quicken your hiring process and make it more efficient.
TestGorilla
If you are searching for a virtual interviewing tool that can easily help you screen your candidates, then TestGorilla will be a suitable option. The software has a powerful anti-cheating feature that prevents candidates from cheating during an assessment. The software keeps the integrity of your candidate assessments safe with its geolocation and IP tracking features. It also takes webcam snapshots and provides randomized questions to candidates. It helps you find skilled candidates faster and allows ATS integration.
Yello
This talent acquisition software allows organizations to deliver customized candidate experiences to each job seeker. As a result, it lets you hire some of the best minds for your job faster. In addition, recruiters can effectively collaborate via this software to discuss matters relating to sourcing new talents and keeping the candidates engaged.
Yello helps employers gather critical insights about job applicants that help them stay better informed about their candidates and improve the organizational ROI. Yello has some Fortune 500 companies as its clients. The software helps to power the recruitment programs of its users. Yello is used worldwide because it allows more than 15 languages for communication.
Conclusion
With the list of eight of the best interview software at your disposal, choosing the right online recruitment platform should not be as challenging as you may think. Once you adopt suitable software, you will find it helpful in creating a superb candidate experience, fixing problems, and preventing any obstacles in the form of a disease outbreak in your recruitment program.
NinjaInterview is one of the most unique and effective online recruitment software. It comes with various integrated assessments for candidates applying for different job profiles within your organization. NinjaInterview is designed by 500apps, which works with the sole aim of helping your business become Fortune 500. They have more than 39 apps for your entire organization at a pocket-friendly rate.
What Makes the Best Interview Assesment Tool?
#1
Hire faster by 50% with one-way video interviews
#2
Choose built-in coding assessments in Python, Java, .NET and 60+ languages
#3
Boost the screening and hiring process with autograding
#4
Evaluate candidates collectively from unlimited responses for multiple profiles
#5
Connect with built-in ATS like RecruitHire to speed up the shortlisting of candidates
#6
Share the link for assessments directly through emails
#7
Use 70+ pre-built screening questions for Quantitative, Verbal, Psychometric, and other types of assessments
#8
Integrate with ATS tool like built-in RecruitHire
#9
Unbelievable pricing - the lowest you will ever find
#10
Everything your business needs - 50 apps, 24/5 support and 99.95% uptime
Join the SaaS Revolution
All-in-One Suite of 50 apps

Unbelievable pricing - ₹999/user

24/5 Chat, Phone and Email Support