Best Recruitment Software – Workflow Automation For Recruiters
Recruitment software can help HR teams save several hours while improving hire quality. Learn how the best recruitment software facilitates automation in this article.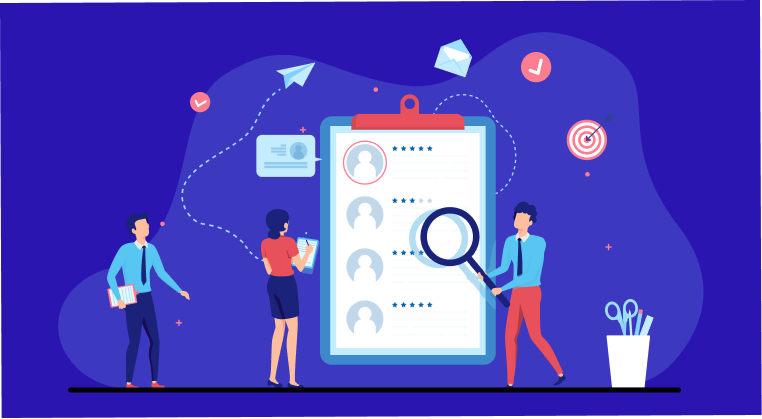 As an HR manager, you're probably familiar with the fact that hiring and firing are always ongoing. Whether your business is a large or small one, the process is always ongoing. As people move up the corporate ladder, new vacuums exist, which you as an HR manager need to fill quickly. So, your business is always seeking new talent to fill open roles.
Suppose you've been doing this for quite a while. In that case, you're sure to be familiar with the hiring process – you create a job description, share it on the niche and popular job boards, sift through the applications, schedule interviews, and initiate the onboarding process. Or, at least, that's the summary of it. As much as every aspect of this step-by-step process is important, there is no need to do all this manually in today's technology-driven world.
Research has shown that recruiters spend up to 75% of their time on repetitive tasks like these, which can be automated. Businesses could save time with virtual hiring tools that automate recruitment. Why is this important? Well, top talent is snapped up from the job market rather quickly, and you'd want to ensure that you can access these excellent hires more quickly.
This is why you should consider automated recruitment software! While reading this article, you may wonder which recruitment software to pick for your company. If that's the question on your mind, then we've created this article to help you. In this article, we'll explore the best recruitment software and how it helps your hiring process. We'll also walk through the ways to choose the best recruitment software for your business so that you can hire excellent staff easily.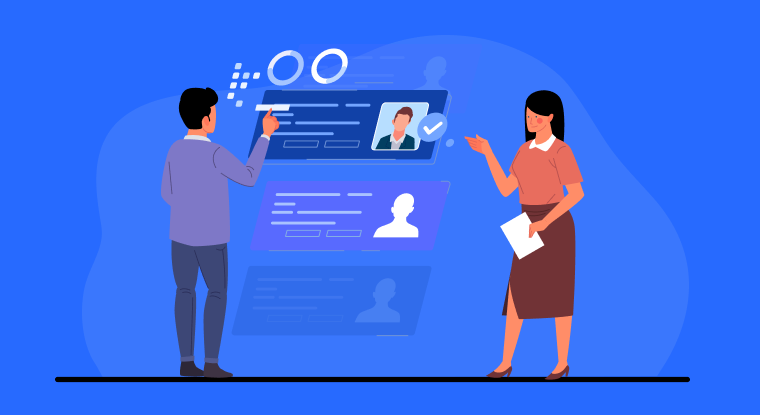 What is Recruitment Software?
Recruitment software is essential for businesses looking to hire professionals at remote locations. It is an internet-based tool that enables businesses to optimize the hiring process every step of the way. It allows businesses to find, attract, interview, and hire candidates efficiently by harnessing web-based tools to boost efficiency.
The best recruitment software involves several different types of applications bundled into one seamless suite. Typically, every aspect of the hiring process has to be done separately. The job posting, interview invites, and employee onboarding are all separate tasks. But with recruitment software, you can incorporate everything into one seamless unit and reduce lag. Recruitment software allows HR teams to view every aspect of the hiring process from start to finish. This way, every team member is on the same page at all times, and collaboration is easier.
Recruitment software offers several advantages to hirers, especially in streamlining the interview process. HR managers can include virtual assessments and automated grading, parse resumes, and do more efficiently. Effectively, recruitment software gives managers extra leverage in choosing the right candidate for a job. Here are some of the many ways that the best recruitment software helps businesses with the hiring process:
Reduces Time Per Hire Hiring the traditional way can be a very tedious, painstaking process. It requires the HR team to manually check through every submitted resume, physically score assessment tests, and spend endless hours going back and forth between each other. With an online assessment tool and automated grading, you can fish out the top candidates faster. Collaboration is also much faster, as everyone can simultaneously see what's being done from their computer screens.

Saves Money for the Business Businesses spend thousands of dollars yearly on several aspects of the hiring process. The longer each hiring cycle takes, the more it sucks valuable cash. Recruitment software efficiently eliminates these costs and helps you streamline the hiring process to save money. With the best recruitment software, your HR team does not need to spend several hours overtime, ensuring you save labor costs.

Facilitates Fair Hiring With the best recruitment software, it becomes easier to break some of your biases in the hiring process. For example, a video interview platform or recruitment software allows candidates to show their personalities and what makes them unique. This way, you can better see why a candidate is a great option for your company. Additionally, collaborative hiring makes it easy to spot prejudice, so you can make changes to facilitate fair hiring.

Promotes Iteration and Improvement Traditional hiring processes tend to get stuck in a cycle. Because there is very little opportunity to evaluate the hiring process, improvement may be difficult. On the other hand, the best interview software provides valuable opportunities for businesses to improve their hiring. With recorded asynchronous interviews, recruiters can keep a long-term record of the hiring process to examine and evaluate it for future improvement.
How to Choose the Best Recruiting Software
Choosing the best recruitment software is a crucial decision for your team. Here are some valuable tips for choosing the right video interview software for your business:
Identify Your Current Hiring Challenges The best recruitment software is meant to make hiring easier, or isn't it? So, there's no reason not to go into making this choice to alleviate the challenges you currently face when choosing a hire. These challenges can vary widely, depending on your team size, industry, and company peculiarities. But it's important to identify these challenges first before making a decision.

Record them in a checklist. You'd also need a diverse picture, so consult with team members to understand the challenges they face in the hiring process. This information will help you to choose a robust interview tool that addresses your concerns. For example, suppose manual assessments take a lot of time. In that case, you can choose the best recruitment software with a cloud-based assessment tool that automates candidate assessment.

Determine the Features You Need After figuring out the gaps in your current hiring process, the next step in setting yourself up for success is understanding what features are essential for your HR needs. In this step, you'll also need to involve your team. They'll help you to choose a software solution that addresses all the important pain points they face. This way, you can choose software that addresses important needs, rather than feature-rich bloatware that makes no difference.

You can categorize these features into essential and non-essential features so that you keep the focus on the high-priority needs. Essential features tend to impact the core functions of your hiring process directly, so it's important to keep an eye on them.

Consider Your Budget The pricing of recruitment software can vary widely, so it's essential to consider what you can afford to spend. Many of the best recruitment software solutions offer custom plans for large teams, reaching up to $100 a month for a user plan. It's important to choose software that fits your business size and the depth of your pocket. For this, understanding how much you can spend comfortably is critical.

NinjaInterview by 500apps offers the best pricing on the market for the best recruitment software. You can purchase its excellent video interview platform and robust talent management software for only $14.99 a month. In addition, you get full access to all other apps in the 500apps suite. This way, you not only improve your hiring process, but you're also able to drive greater value within your business.

Explore Your Options After you've determined what you need from virtual hiring tools, you're ready to go to the market. Checklist in hand, explore the features of each hiring software you see for compatibility with your needs. Read the descriptions of each product, enjoy free trial periods, and request demos! Your goal is to ensure that when you choose interview software, it suits your company culture and business goals perfectly.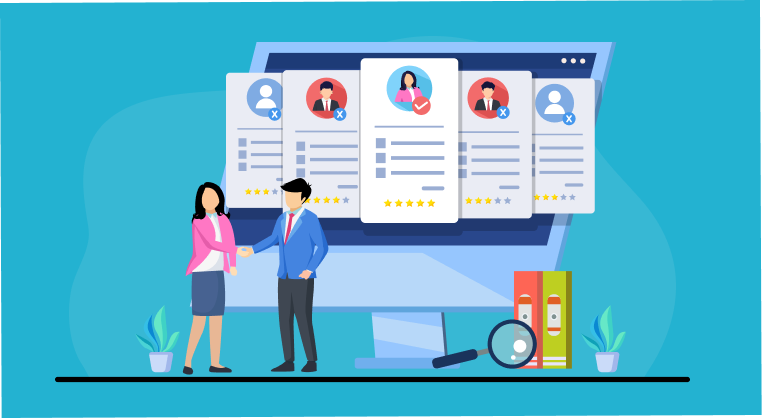 The Features of the Best Recruitment Software
The goal of recruiting is to find and hire the best candidates. This creates a great yardstick for determining the essential features of recruiting software. These include:
Candidate sourcing This is a crucial aspect of the hiring process. Great recruiting software allows you to locate top candidates easily. With this software, you can easily post your job opening on top sites like Indeed and Glassdoor, so your applicants can find you online.
Automated workflow Excellent virtual interview software can streamline the hiring workflow. Every step of the process, from job posting to interview scheduling to hiring, is automated, saving recruiters several hours.
Candidate assessment Great interview software can rank candidates based on qualifications, experience, and other factors. Automated assessments also allow you to grade candidate abilities before you think of scheduling an interview. This ensures that you spend more time on high-quality prospects.
Collaboration and communication Collaboration and communication are essential for a seamless hiring process. With great interview software, recruiters can combine their input to choose the best candidates. Additionally, communication with candidates is easy, as custom emails and instant messaging allow you to communicate with potential employees efficiently.
Easy integration Best recruitment software easily integrates the hiring process with the entire candidate relationship management system. This ensures that recruiters can keep using the software they already enjoy using while improving their efficiency.
Conclusion
Choosing the best recruitment software for your team is an important task. However, with a great interviewing app such as NinjaInterview, you'll be able to hire the best talent with minimal effort.
What Makes the Best Interview Assesment Tool?
#1
Hire faster by 50% with one-way video interviews
#2
Choose built-in coding assessments in Python, Java, .NET and 60+ languages
#3
Boost the screening and hiring process with autograding
#4
Evaluate candidates collectively from unlimited responses for multiple profiles
#5
Connect with built-in ATS like RecruitHire to speed up the shortlisting of candidates
#6
Share the link for assessments directly through emails
#7
Use 70+ pre-built screening questions for Quantitative, Verbal, Psychometric, and other types of assessments
#8
Integrate with ATS tool like built-in RecruitHire
#9
Unbelievable pricing - the lowest you will ever find
#10
Everything your business needs - 50 apps, 24/5 support and 99.95% uptime
Join the SaaS Revolution
All-in-One Suite of 50 apps

Unbelievable pricing - ₹999/user

24/5 Chat, Phone and Email Support