Online Video Interview Software to Hire the Best Employees
Online video Interview software is changing the game for businesses' hiring processes. In this article, we show you how you can choose great interview software to boost your hiring efficiency.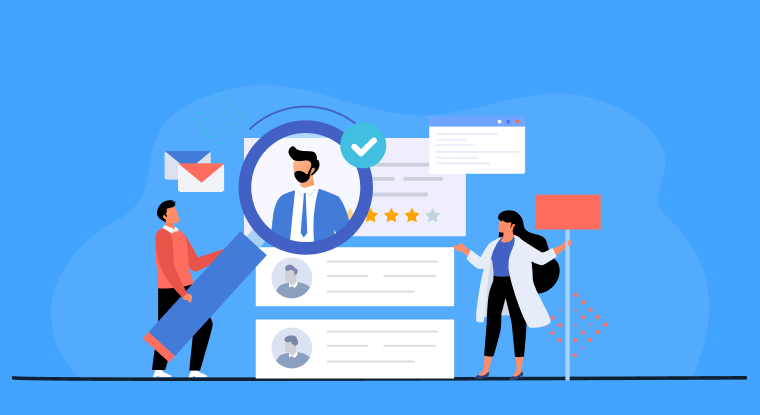 Online video interview software is revolutionizing the world of hiring for businesses. Today's businesses no longer need to spend thousands of dollars on hiring, even when recruiting top talent for technical or managerial positions. Companies that employ this software report less turnover and increased employee satisfaction. And their hires are also reporting increased levels of satisfaction, as they can better interact with recruiters when it's most convenient for them.
Whereas many businesses previously spent weeks on the hiring process, and scheduling hassles could stall the hiring process greatly, modern hiring eliminates these challenges. Technology is leveraging the power of the Internet to optimize the hiring process so businesses can keep improving the quality of their hire.
And if you're a business owner, this is certainly great news! With virtual hiring, you can get your job posts out to thousands of candidates, screen their resumes efficiently, and access the top talent in weeks or days. This saves you hundreds to thousands of dollars yearly in productivity and hiring expenses.
However, navigating the software world may seem challenging, even for the most experienced recruiters. There are many solutions in the market. Each offers features to optimize your hiring process. But every business has its unique needs and therefore needs specific functionalities to improve its hiring process. This means that picking online interview tools may not be straightforward.
We at 500apps want to help your business find the perfect software that meets your needs so that you're able to optimize your hiring process in no time. In this article, we'll explore what online video interview software is and its functions. We'll also look at how it helps businesses find, recruit and hire excellent new employees.
What is Online Video Interview Software?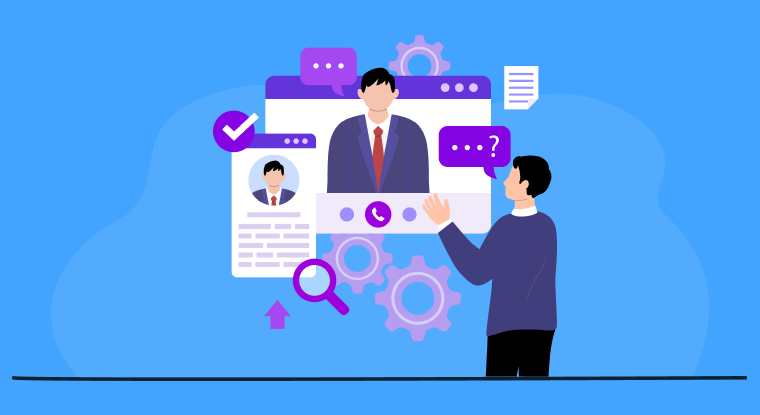 Online video interview software solutions are web-based tools that allow recruiters to interview and hire candidates. Online video interview software ensures that recruiters can automate multiple steps of the hiring process to drive more efficiency in their roles. It includes several tools that facilitate different stages of the hiring process. These may be job posting tools to advertise open roles on the niche and general job boards, candidate ranking tools to identify top candidates and rank them at the top of the list, and assessment tools to ensure that selected candidates have the necessary skills to thrive in their role.
The online assessment tools offer recruiters several advantages, no matter their industry. From reduced hiring time to greater satisfaction with candidates, they can help recruiters maximize their hiring. A few of these advantages are:
1. Eases the burden of hiring
It can be challenging to sort through thousands of applications for high-volume roles with many applications. When done manually, it can take recruiters several hours to properly sort and arrange the applications to find the best ones. Often, this can last days, depending on the size of the organization and the number of HR staff available. This tends to lead to burnout, as there is great pressure on the HR team to find suitable candidates for the role.
Recruitment software or the online video interview software helps to automate many of these processes, ensuring that recruiters spend less time on repetitive steps and comb through low-quality applications. Many hr recruitment software solutions offer a candidate-ranking system that ranks applicants according to their qualifications.
By reducing time spent on repetitive processes, recruiters can focus more energy on interacting with qualified candidates. This increases the ability of the team to attract top talent, as they can show them why the company will help them meet their career goals.
2. Increases the speed of the hiring process
Although speed is not often the watchword of an HR team, they must be fast enough to pick up top talent from the job market. The best talents are hired in as little as ten days after leaving a previous job, meaning that your team needs to be responsive to access these candidates. By harnessing some of the best technologies, virtual hiring can facilitate a swift response from your team.
How is this possible? Many recruitment software can automate multiple steps of the hiring process. Rather than having recruiters type out emails for every candidate, this online video interview software can simply add candidates and automatically send custom emails to candidates as they progress in the job cycle. Many online video interview software solutions can integrate with excellent emailing software like MailChimp, ensuring you can send personalized emails to your candidates.
Another cause of slow hiring with traditional methods is the hassle around scheduling an interview. Usually, top talents have very busy schedules, preventing them from simply taking an off day for your interview. And if they live in a different country or a distant city, the process is even more difficult. Because of this, the hiring cycle may stall at the interview stage for weeks, leading to several days of wasted time. With an online video interview software, however, scheduling an interview is much easier.
HR teams can hold asynchronous interviews, where candidates record their responses to preset questions. These responses can then be assessed during work hours by the HR team. Many businesses have reported that using asynchronous interviews made candidates respond to interview questions in less than 24 hours. Live video interviews are also possible, as the remote nature of virtual interviews allows candidates and HR staff to be flexible.
3. Saves money
Hiring is expensive, as companies in every niche or industry can testify. The average company spends between $5,000 and $15,000 to fill a single corporate position. This value can skyrocket depending on the company's size and position.
With traditional hiring with using an online video interview software, the costs are even more expensive. For example, companies have to pay more overtime to HR staff, who may spend more hours sorting applications. And job boards and ads aren't free, so if a company has a large number of open positions, listing them in multiple local dailies and job boards add up significantly.
For top roles where the candidate has to travel for the interview, a company must also cover travel expenses, accommodation, meals, and other expenses. But with online video interview software, candidates can join from anywhere in the world. Additionally, by ensuring you spend less time hiring, the costs do not accumulate to the same level as traditional interviews. And with an online assessment system, you certainly don't have to cover any hotel bills!
4. Facilitates fair hiring
Traditional hiring processes do not do much to reduce the influence of personal biases from the HR team when choosing candidates. Often, HR team members have prejudiced opinions about who is the best fit for a role, and this often marginalizes minority groups from getting access to positions they are qualified for.
For example, a study in Chicago and Boston found that people with white-sounding names got 50% more responses to their applications than those with ethnically-sounding names. In this study, people with ethnically sounding names would need to send out 15 resumes to get one callback, while people with white-sounding names had to send only 10.
Today, having diversity in the workplace is critical to workplace policies so that all people have an opportunity to thrive. Studies have shown that a diverse workplace positively correlates with improved employee well-being.
With video interview tool, it's easier to eliminate prejudices in hiring. Many of these online video interview software solutions employ keywords that help to rank top employees higher, irrespective of their ethnic background. This way, employers can have a more diverse workplace where everyone is given equal opportunity to get hired, whatever their ethnicity.
5. Improves the candidate's experience
Online video interview software helps to improve the candidate experience significantly. With these interview tools, candidates can apply to positions from their convenient location and spend less time on hiring. Usually, a candidate can send an application in 30 minutes or less, saving time for the candidate.
Candidates with flexible interviewing schedules can also attend an interview when or where is most convenient. With online video interview software, recruiters can allow candidates to send recorded videos at a convenient time. This ensures that hiring candidates in different time zones is possible without affecting their schedules. With live video interviews, candidates can also take the interview from a comfortable location such as their home to stay comfortable.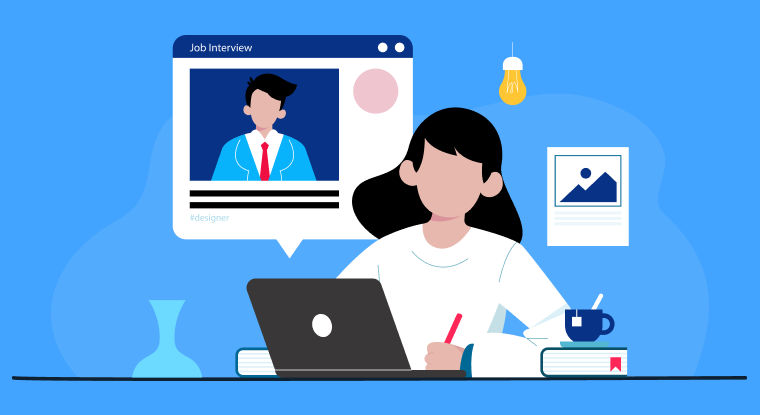 How does Online Video Interview Software Help Businesses Find, Recruit, and Hire Employees?
Here are a few ways that online video interview software facilitates every step of the hiring process:
1. Job posting
Online video interview software can post new jobs online on general and niche job boards to ensure that high-quality candidates find job postings.
2. Interview scheduling
With online video interview software, HR teams can conveniently schedule interviews for both recruiters and candidates. This time is then sent to the candidate via email or SMS. For candidates with tight schedules, the best assessment tools allow them to send video recordings to the recruiters at their convenient time.
3. Candidate assessment
Online video Interview software allows recruiters to create custom assessment tests that determine a candidate's skill set and suitability for the role. Whether it's a coding assessment, cognitive test, or aptitude test, an assessment test can help recruiters see which candidate will thrive in the role.
4. Interview streaming
Online video Interview software allows recruiters and candidates to communicate in real time via live video interviews. This step allows candidates and recruiters to interact on a personal basis. It's great for showing the candidate's personality and allowing recruiters to ask personalized questions to help them make the right decision about each candidate.
5. Automated emailing
Emails are critical to the hiring process. Emailing is the primary means of instant communication between candidates and recruiters from the interview invite to the final job offer. Online video Interview software can help automate the process by providing automated emails to help recruiters stay in touch with candidates. Some new online video interview software solutions offer SMS functionality, ensuring you can interact with candidates more closely.
6. Employee onboarding
When you've chosen your candidate, onboarding your new employee is the next step in the process. They'd need to be familiarized with your company culture, tailored processes, and other important details. Many online video interview software solutions can integrate with your CRM to automate employee onboarding. This way, you're able to onboard your new employee easily.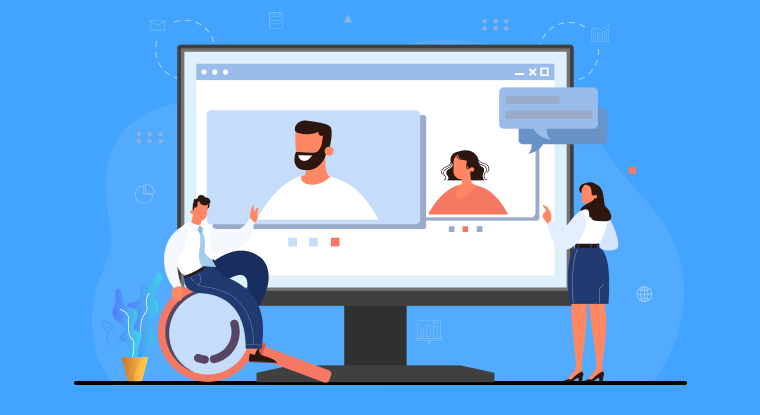 Some Key Features of Online Video Interview Software
Here are a few key features to look out for in an online video interview software:
1. Candidate management
Great online video interview software helps HR staff to manage candidates efficiently. It should allow you to add a candidate and manage all their details from one place.
2. Interview scheduling
A great online video interview software makes interview scheduling easy for recruiters. You'd only have to pick a date, and every team member would see it. The date is also sent to the candidate instantly so they can prepare for the interview.
3. Video assessment
Video assessment is a critical feature of online video interview software. With video interviews, you're able to interact with candidates on a more personal basis. Whether a live interview or a recorded video assessment, your candidates can show their personalities so HR managers can make excellent decisions.
4. ATS integration
A great advantage of applicant tracking systems is that they help the business keep an updated pool of qualified applicants they can contact anytime they need an opening. Online video Interview software helps businesses to maximize applicant tracking system software so that recruiters always have a list of top talent on hand. This ensures that businesses can send personalized invites to top talent when needed, and future hiring cycles can take less time.
To wrap things up
Traditional hiring methods waste a lot of time and are less efficient at spotting the right candidates. On the other hand, online video interview software allows businesses to harness the best technologies to optimize their hiring process. When choosing an online video interview software, select one with the best features for your business. This way, you can optimize your hiring process to get the best candidates.
We highly recommend NinjaInterview by 500apps which has all advanced features to speed up you hiring process and also gives you access to 50+ other applications to meet your end-to-end business requirements.
What Makes the Best Interview Assesment Tool?
#1
Hire faster by 50% with one-way video interviews
#2
Choose built-in coding assessments in Python, Java, .NET and 60+ languages
#3
Boost the screening and hiring process with autograding
#4
Evaluate candidates collectively from unlimited responses for multiple profiles
#5
Connect with built-in ATS like RecruitHire to speed up the shortlisting of candidates
#6
Share the link for assessments directly through emails
#7
Use 70+ pre-built screening questions for Quantitative, Verbal, Psychometric, and other types of assessments
#8
Integrate with ATS tool like built-in RecruitHire
#9
Unbelievable pricing - the lowest you will ever find
#10
Everything your business needs - 50 apps, 24/5 support and 99.95% uptime
Join the SaaS Revolution
All-in-One Suite of 50 apps

Unbelievable pricing - ₹999/user

24/5 Chat, Phone and Email Support