The Ultimate Guide to Conducting Seamless Virtual Interviews
Wondering how you can improve your virtual interview process as a recruiter? This article takes you through the process of hiring efficiently using virtual interviews.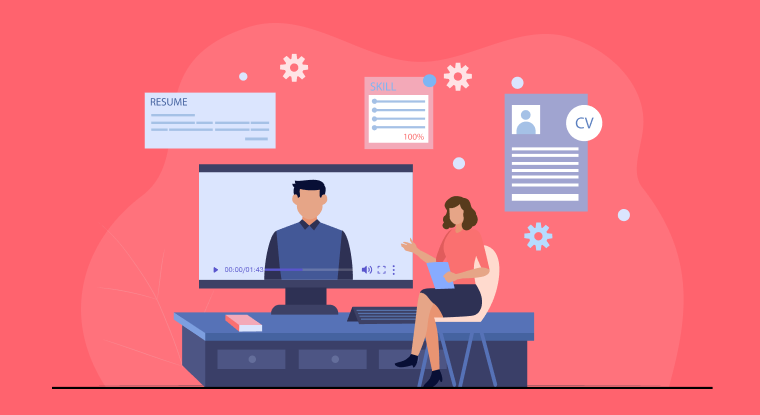 Virtual interviews have come to stay, as businesses use video and online interviewing software more frequently than ever. A recent survey concluded that over 40% of businesses used the virtual interview as part of their hiring process. Also, more than 20% of businesses surveyed said they plan to use virtual interviews exclusively.
The process may have been steep, especially due to the pandemic. But virtual interviews have become especially popular in today's world. And why not? They offer several advantages in terms of convenience, and the software offers multiple assessment tools that leverage technology to make hiring decisions easier.
And although virtual interviews offer a world of advantages, it's important to understand how best to maximize them. In today's competitive business world, allowing your competitors to glean all the amazing advantages of this software alone is probably not a good idea. This is why, in this article, we'll guide you on just how you can set yourself up for success by effectively conducting virtual interviews for business. We'll also explore why virtual interviews are a great idea for your business, and why you should consider them.
Why Use Virtual Interviews?
Virtual interviews are a great option for your hiring process. Here are a few reasons why:
Facilitates High-volume Hiring
As an HR staff, sifting through a pile of applications for a high-volume role can be pretty exhausting. The process can be painstaking and, when done manually, leads to several work hours wasted on low-quality prospects. The online assessment tool leverages technology to find and recruit the best talent easily and seamlessly. You can also check out advanced assessment tools such as NinjaInterview which also gives access to an applicant tracking system to automate your hiring process conveniently.
Saves Time
Traditional interview processes typically take weeks. Posting job offers, finding the best applicants, and scheduling and holding interviews can take several weeks to months. And in the interim, your business tends to suffer due to the vacuum created in the unfilled post.
Virtual interviews help to save time in many ways. For one, finding the best CVs is much faster, and issues regarding scheduling can be resolved more easily. Additionally, virtual interview software like NinjaInterview integrates with cloud-based applicant tracking systems. These systems keep a record of each applicant and their contact information. This way, you can reach out to top talent who were not hired from a previous cycle, rather than always sending out a job posting that will take weeks to garner attention.
Reduces Costs
Hiring costs can be astronomical when considering traditional processes. The cost of hiring a new candidate for a role can range from $1,500 to $5,000, depending on the nature of that role. Additionally, findings have shown that many companies lose an average of $50,000 yearly to inefficient hiring processes.
Virtual interviews cut down on the costs of hiring new staff significantly. With virtual interviews, businesses no longer need to spend money on flight tickets, lunch, and lodging when hiring for top roles. They can also demand less overtime from the HR team when hiring for competitive positions. This saves the business money, which they can put to other uses.
Expands the Candidate Pool
In today's globalized world, there is no limit to where your job search can reach. And there is no reason to limit your job search either! You can find top talent anywhere globally, which allows you to harness the best skills from around the globe to beat your competitors.
With a wider candidate pool, you also improve your chances of finding several high-quality talents. Even if you do not hire them all in a job cycle, you can keep a record of excellent potential hires you can contact in future hiring cycles. More convenient for candidates
Technology was created to make life more convenient, which is the same philosophy virtual recruitment software is built on. Virtual interviews do not require candidates to completely adjust their entire day for a one-hour interview or travel several miles to a different city. Candidates can simply stay in their homes and connect with interviewers face-to-face. Virtual interviews allow the candidates to have an interview on their terms, allowing them to be more relaxed than in physical interaction.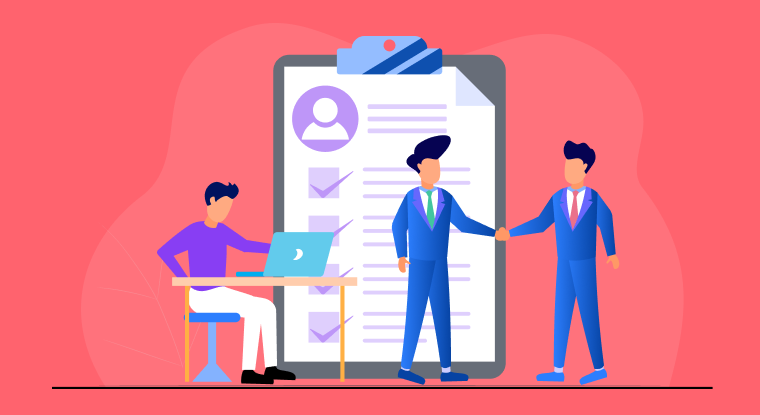 How to Set Up a Virtual Interview
So, do you want to set up a virtual interview for your business? Follow these steps to know how.
Outline Your Process
The process of setting up and handling an interview can seem rather overwhelming. It's important to stay grounded throughout the process. Having a detailed outline helps you stay focused on what is relevant and can be useful for determining whether you're hiring efficiently or not. Also, a detailed outline can be shared with other team members so they have a good idea of what they must do at all times. This ensures that your team works together to achieve similar goals.
Involve Relevant Staff
Choosing new staff is a pretty important decision. And depending on the role that your business is hiring for, it may be directly connected to your company's success or failure. So as an HR manager, it is important to involve everyone that has connections to the open position in your activities. They'll eventually have to work with them, so it's vital to let them have a say in your decision as a recruiter. Additionally, their input may provide insight into what skills you need to prioritize during the online interview.
Choose Your Tools
Great software and equipment can make your virtual interviews seamless and efficient. Bad tools, on the other hand, lead to frustration on both ends. So it's important to have the right tools for your hiring process.
Choosing tools for your virtual interview is not a difficult process. It just involves knowing what your business needs and evaluating these needs to determine actionable goals. Do you need candidates to share a document? Or you'd like to record the interview? Choosing a great virtual interview tool allows you to meet these needs efficiently.
Choose a Date and Invite Applicants
When you've gotten your tools and reviewed CVs to find the best talent, it's time to pick a date for the interview. It's best practice to pick a date a few weeks ahead. This allows your candidates enough time to prepare effectively for your interview.
Your interview, although virtual, remains an interview. And this means that potential hires must appear formal and prepared. A great way that sending invites early on helps is that it shows that your business is organized. This is crucial for creating excellent impressions of your company.
Test Your Equipment
Problematic equipment can be a headache for both hirers and candidates. Do ensure that everything runs smoothly before the interview date. Test everything that will be used, from microphones to WiFi to laptops. By taking the time to ensure that the entire setup works efficiently, you can create a streamlined interview for your candidates.
Be Professional
Whether you're interviewing from an office or your home, it's important to treat it like an official appointment. Your candidates can only take you seriously if you take them seriously. So, ensure to follow all the necessary steps. Dress formally, address people by their names and titles, and prepare questions ahead of the interview. This way, you come off as professional and experienced, which is attractive to top talent.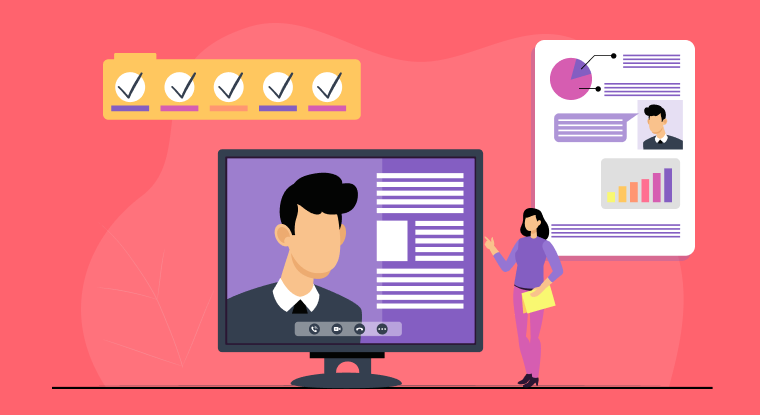 How to Evaluate Candidates in a Virtual Interview
Here are some tips to evaluate candidates in a virtual interview:
Ask Targeted Questions
As much as a candidate's CV contains valuable information about their career, it is never the full picture. So, asking targeted questions that reveal more about the candidate is critical. For example, you can ask about what motivates them or even do more digging into their background. Targeted questions reveal what candidates cannot say in a cover letter or resume so that you can have a balanced picture of the candidate.
Spark a Conversation
A great way to find out more about a candidate and get them talking is to spark a conversation. It can be about an industry concern or a shared interest. The quality of the conversation and how well the candidate navigates complex topics indicate how well they know their stuff. Be careful not to stray, though. Keep the conversation relevant to the role.
Read Body Language
Body language is important in interviews as it reveals the candidate's personality. Observe how much they make virtual eye contact, how confident they are answering questions, and other subtle markers. Do they come off as overconfident or humble? Or do they seem reserved? Reading body language will help you understand the candidate's persona better.
To Wrap Things Up
Conducting a seamless virtual interview can be as easy, but only when you use the right tools and follow the right steps. With great video interview software like NinjaInterview by 500apps and a dedicated team, your hiring process will become more efficient.
What Makes the Best Interview Assesment Tool?
#1
Hire faster by 50% with one-way video interviews
#2
Choose built-in coding assessments in Python, Java, .NET and 60+ languages
#3
Boost the screening and hiring process with autograding
#4
Evaluate candidates collectively from unlimited responses for multiple profiles
#5
Connect with built-in ATS like RecruitHire to speed up the shortlisting of candidates
#6
Share the link for assessments directly through emails
#7
Use 70+ pre-built screening questions for Quantitative, Verbal, Psychometric, and other types of assessments
#8
Integrate with ATS tool like built-in RecruitHire
#9
Unbelievable pricing - the lowest you will ever find
#10
Everything your business needs - 50 apps, 24/5 support and 99.95% uptime
Join the SaaS Revolution
All-in-One Suite of 50 apps

Unbelievable pricing - ₹999/user

24/5 Chat, Phone and Email Support